Maths
Our Maths Mascots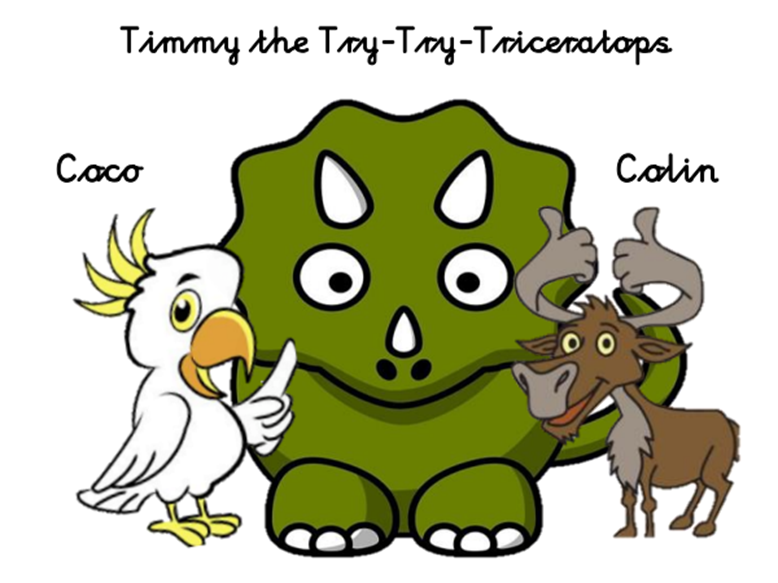 Maths is learning to become creative, thinking critically and solve intriguing problems through explanations. Mathematics is a creative and highly interconnected discipline that has been developed over centuries, providing the solution to some of history's most intriguing problems. Essential to everyday life, Maths is critical to science, technology and engineering, and necessary for financial literacy and most forms of employment.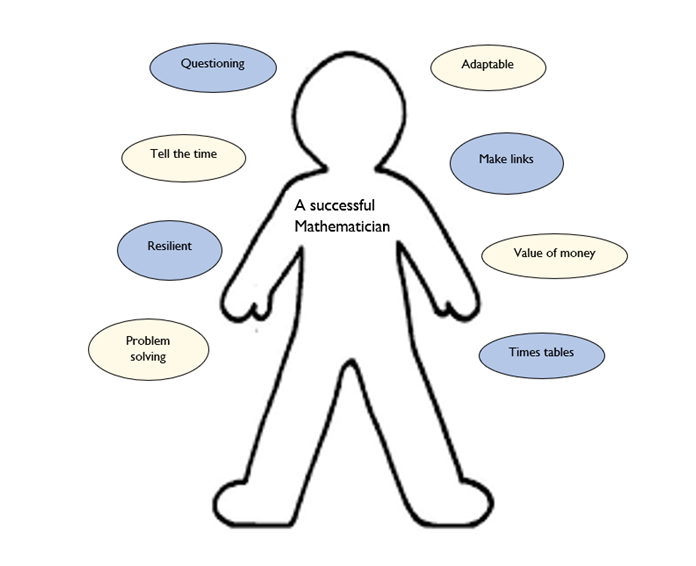 Intent:
At St Barnabas, our children are enthusiastic learners who love to learn maths. We aim for all children to be resilient mathematicians, who do not give up when faced with obstacles and to always remember that it's not that they can't do it, they just can't do it…yet!
Our cohesive curriculum is designed using a mastery approach to teaching and learning. Through carefully sequenced manageable steps, we ensure our children have deep conceptual understanding of the maths they are learning and this is supported through the use of mathematical representations such as concrete resources and models/images. We are passionate about children not learning tips and tricks, ensuring their learning is sustainable and that all have firm foundations of knowing how and why the maths they are learning works. Children at St Barnabas thrive on being challenged and our lesson design ensures all children have access to fluency, reasoning and problem-solving tasks.
We want our children to be able to explain their mathematical thinking verbally and through written responses with clear reasoning, and therefore we expose them to a wealth of mathematical vocabulary, which is modelled by adults to support them in using this language themselves. We believe it is crucial that our children have strong number sense and are fluent with number facts. Our additional daily Mini Maths session focusses on retrieval practice, as we recognise the importance that all children have the opportunity to expand upon and develop their mental maths skills, which will in turn, support their written methods as they progress through the primary education and beyond.
At the heart of the teaching of mathematics at St Barnabas, is the belief that each and every child can succeed in maths. We endeavour to not only develop the mathematics skills and understanding required for later life, but also an enthusiasm and fascination about maths itself.
We are continually aiming to raise the standards of achievement of all children. This has been developed through our engagement with our local Maths Hub, GLOW, and with the CanDoMaths team, which gives all staff access to cutting edge CPD, as well as being involved in Working Groups with other schools.
Implementation:
Planning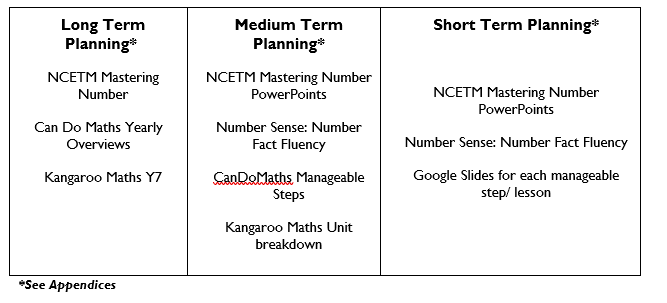 Weekly Structure

Opportunities for Retrieval inc. Mini Maths:
We understand the importance of ensuring children regularly retrieve previous learning to ensure learning is not 'forgotten'. At the start of each unit, children complete a Pre-Learning Task which includes examples of questions, focussed on fluency, linked to the last time the children met the learning; this is typically from the previous year group (further information in the lesson design).
Each lesson has a 'Remember It' section, where children deliberately practice an aspect of maths that has been learnt previously, but that is linked to that lesson's learning.
Our additional Mini Maths session also provides further opportunities to retrieve and consolidate previous learning.
In addition to the Mathematics lesson, each class from Y1 - Y7 have an additional 15 minute session which we call, 'Mini Maths'. This is a further opportunity for retrieval practice and is used as follows:

Lesson Design
Our lesson design incorporates the 5 Big Ideas of Teaching for Mastery, to ensure children have deep and secure learning. This enables them to become fluent mathematicians and they are then taught to apply this fluency to more complex reasoning and problem solving.
Manipulatives and varied representations are used throughout teaching and learning to support the children in seeing the structure of the maths they are learning. High expectations for vocabulary and language focus are set, modelled and spoken by both adults and children. Every maths lesson will allow children to develop their mathematical thinking, learn new skills and apply their new learning to more challenging contexts.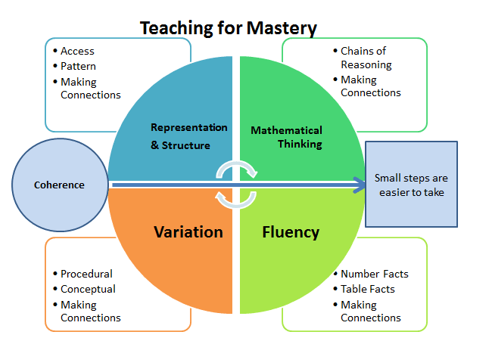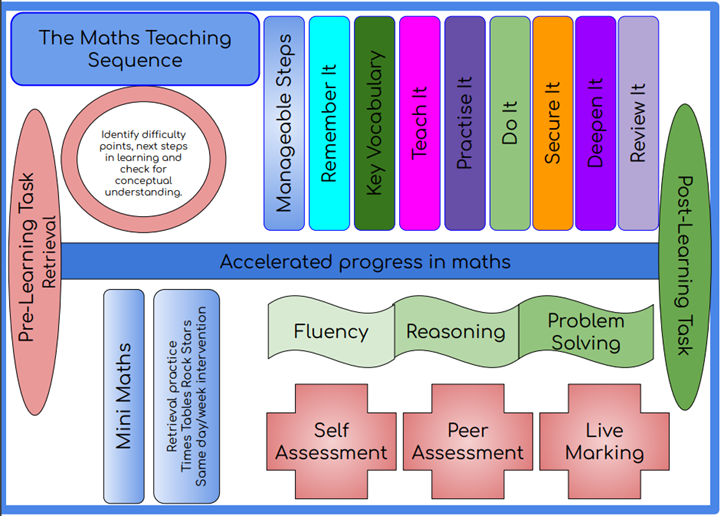 Manageable Steps - Each lesson focuses on a manageable step of new learning based on the National Curriculum statements.
Pre-Learning Task - Teachers begin a unit with a Pre Learning Task which includes examples of questions linked to the last time the children met the learning; this is typically from the previous year group. This focuses solely on fluency. All teaching staff are then able to use this, together with conversations with the children to gauge whether the children have the prerequisite knowledge and skills to access the new learning. The teaching sequence may be amended in light of this information, or specific children may participate in an intervention. These are completed on pink paper.
Maths Mindset – An opportunity to draw the children's attention to one of more of our Maths Mindset goals for that lesson.
Introduce unit journey and the lesson's manageable step
Remember It - Retrieval practice opportunity linked to the learning in the lesson or unit.
Key Vocabulary - An opportunity to explore the key language which will be used in the session. These are added to the Working Wall.
Teach It - Live modelling of the new learning with explicit use of potential misunderstandings and an opportunity for the whole class to reason.
Practise It - A multi choice 'hinge' question to ensure children are ready to work independently and to identify individuals or groups of children who may need further support.
Do It - Up to 5 examples of 'What it is/What it's also' Challenge 1: Procedural Fluency
Secure It - A misunderstanding focusing on a common error or misconception Challenge 2: Conceptual Understanding
Deepen It - Apply understanding to solve new problems Challenge 3: Mathematical Thinking
Now What Bubbles - Further application of the new learning to solve problems Challenge 3: Mathematical Thinking
Review It - Lesson Recap: Key Concept Statement and Key Vocabulary.
Post-Learning Task - Children revisit a series of fluency questions based on the unit of work. Some children may also be asked to explain and prove why their answer is correct. Children will then write a reflective comment or discuss their progress across the unit: what have they learnt? What are they feeling more confident with? These are completed on green paper.